A new year, a new start? Not for the news. Our new polling shows that Brexit still dominates, with record numbers of the public paying attention.
We poll 2,000 British adults each week to find out which news story, political or otherwise, the public have paid most attention to.
Brexit was the clear winner throughout January but the more attention it attracts, the more the public's patience seems to wear thin.
The prime minister's unsuccessful attempt to secure parliamentary backing for her deal via the meaningful vote catapulted Brexit to a record high of 86 per cent. That is about as much attention as any news story ever gets. Even four in five people aged 18 to 34 – usually the least engaged group – said Brexit was their most-noticed story.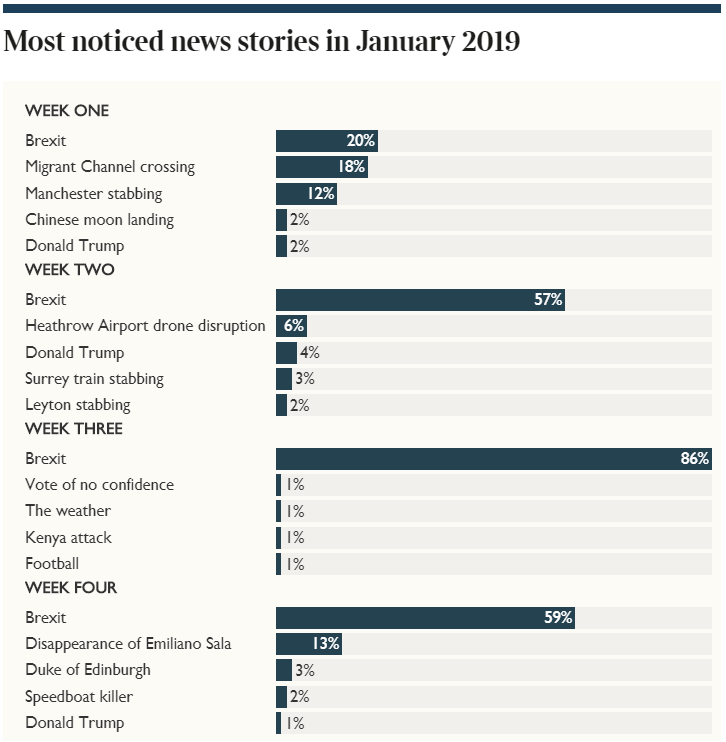 But several respondents suggested that they were "completely bored" of the "never-ending story", while others found it "all very confusing". One typical respondent who had felt forced to notice the debate about Theresa May's deal said they had "not listened to any great extent as nothing seems straightforward".
Even before the vote took precedence Brexit topped our poll in the first week of the new year (on 20 per cent), with respondents focused on preparations for a no-deal scenario. Some of those derided the government's partnership with Seaborne Freight, the business contracted to run ferries in the event of a no-deal Brexit, dubbing it "the ferryless ferry company" that "has no experience of running a ferry service and owns no boats".
Reports of migrants crossing the Channel made a rare challenge to Brexit's dominance (on 18 per cent), providing a reminder that immigration is still one of the most salient issues for British voters. In contrast only 2 per cent said in the same week that the rise in rail fares after a year of disrupted train services was their most noticed story.
All in all, the parliamentary opposition to Mrs May's deal and its defeat in the Commons appeared to produce little sympathy for the prime minister among respondents, but at the same time the few who had been focused on Jeremy Corbyn painted him as obstinate and obstructive.
Many other respondents in late January criticised what they saw as a more general "bickering among self-serving politicians" who had failed to come to a consensus.
And hardly anyone mentioned the prime minister's recent announcement that the £65 application fee for EU citizens to stay in the UK would be scrapped.
The smaller details are often overlooked by a public that, though divided, now seeks resolution.
We interviewed a nationally representative sample of at least 2,000 British adults aged 18 and over each week, and asked what news story they had noticed the most. The question was open-ended and participants could name any story.
Will Clothier is a senior research executive at Yonder