When was the last time you bought a berry bircher with actual berries in it? The nation has succumbed to the great fruit dupe. Jams and sugary purees have become a substitute for the real thing: fresh, whole fruits. Prep World – one of Europe's largest fruit suppliers – knew that we needed a champion of real fruits. So, with our help, they created OMFG, a brand with berries to take a stand.
When the Prep World team first came to us, they had already been busy creating a range of snack pots that would showcase real, juicy, fabulous whole fruits, and help the nation fill up on fresh.
They had six unique products and had already started thinking about how they might go market. They came to us with a simple ask: what do you think of these names we're knocking around?
We were inspired by the mission and in love with the product, but suspected their list wasn't quite capitalising on the opportunity they had to really spark a fruit revolution. We got to work straight away. We created a unique panel- based approach to giving feedback on their names, drawing expertise from across Yonder which included analysts, creatives, researchers, and strategists and – through their combined experience – were able to confirm that the names might fall flat on the over saturated snack pot shelves.
Using the insights from the session and what we knew about the brands mission, we – alongside the Prep Word team – decided we needed to build a brand from the ground up. We codified their USP as 'Unexpectedly Fruity', and it worked so well it became the basis for the brand personality. This led us to a name that was cheeky, had a bit of zing, and included the word fruit in an unexpected place: Oh My Fruity Goodness – or OMFG for short.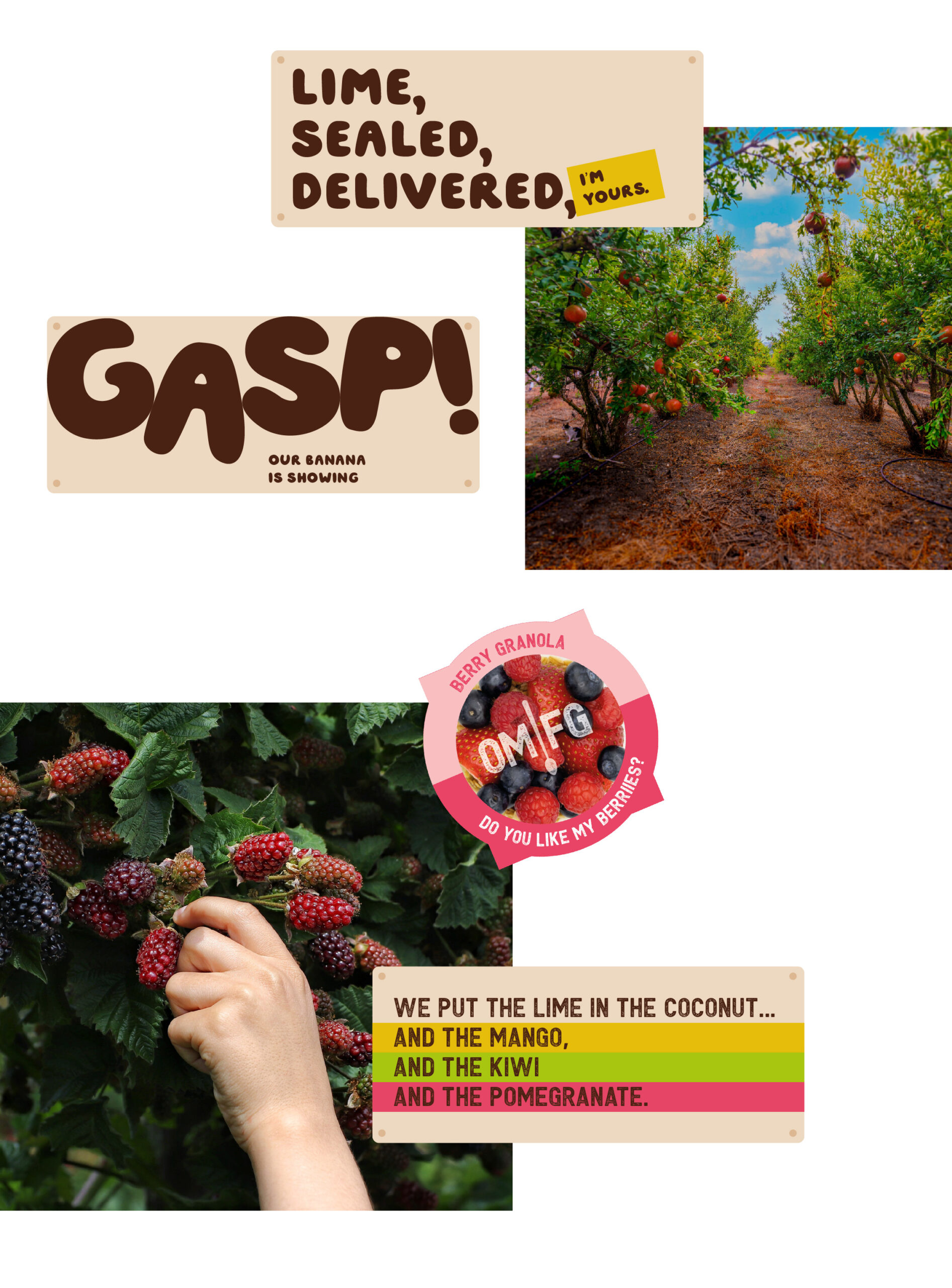 Unexpectedly fruity was the guiding light for a tone of voice that is packed with cheeky charm and is sometimes a bit…bananas. The new visual identity drew from the natural colours of fruit and was complemented by a series of stickers that makes it impossible to miss all the delicious benefits and good stuff that's packed into each pot.
Our work culminated in the creation of an OMFG website as a place to showcase the brand, the products and the mission.
Great Taste
2022 (Tropical Bircher)
Bronze Award, Innovation Challenge
Founder, OMFG
Chief Executive Officer, PrepWorld
"The team at Yonder have been brilliant, working together we quickly experienced an OMFG moment. Their strategic expertise helped us land on a brand that truly reflects the mission and ethos of our products. There is no doubt that with the OMFG brand, having already picked up some innovation and quality awards, we will be able to deliver fruity goodness by the spoonful."
Brand & Business strategy
Customer understanding
Design