It was not long ago that Prime Minister Boris Johnson was encouraging the public to "go back to work now if you can" and Chancellor Rishi Sunak was telling us all to "eat out to help out".
For parts of July and August, it almost seemed as if the predicted 'second wave' of coronavirus had been put to the back of the mind. The share of attention that coronavirus had received compared with other news stories during spring and early summer decreased slightly and the public was also noticing stories such as the explosion in Beirut and its aftermath, the A-level and GCSE results controversy and the messy Johnny Depp and Amber Heard court case.
Going into September, it was not obvious which news stories would be the most noticed this month, especially with the re-starting of Brexit negotiations in Brussels.
The verdict at the end of the month? Coronavirus continues to dominate the news like nothing else and the level of attention it has received has increased again during September.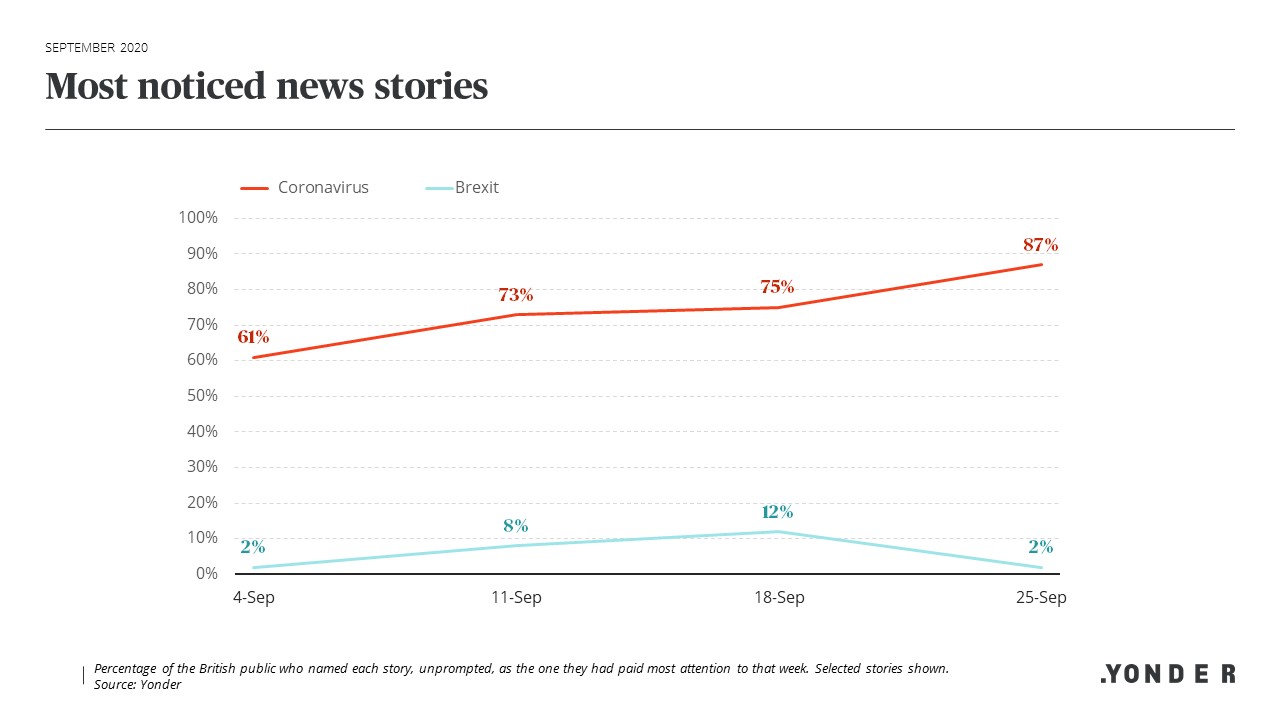 This appears to be a direct result of the increase in infection rates and subsequent restrictions to normal life. Beyond updates of the R number's steady climb, the public has also noticed the return to schools and the new lockdown measures implemented by Government last week. The curfew on pubs and the 'rule of six' are among the measures most often recalled.
Although a small minority has focused on Brexit, and more specifically the Government's controversial attempt to override international law, the majority has paid most attention to the pandemic.
As UK-EU negotiations continue and the October deadline to agree a trade deal approaches, it will be interesting to see whether Brexit can take back control of public attention, or whether coronavirus will continue to dominate.
Yonder interviews a nationally representative sample of at least 2,000 British adults every week and asks what news story they have noticed most. The question is open-ended, and participants can name any story.