This year has seen businesses face an extremely tough communications environment. It won't come as a surprise to anyone that coronavirus dominated the news until September when events in Afghanistan briefly took over the headlines. For much of the first half of the year, only breaking stories about the Royal Family and the European Super League proposal cut through coronavirus to interrupt public attention.
Most noticed news stories of 2021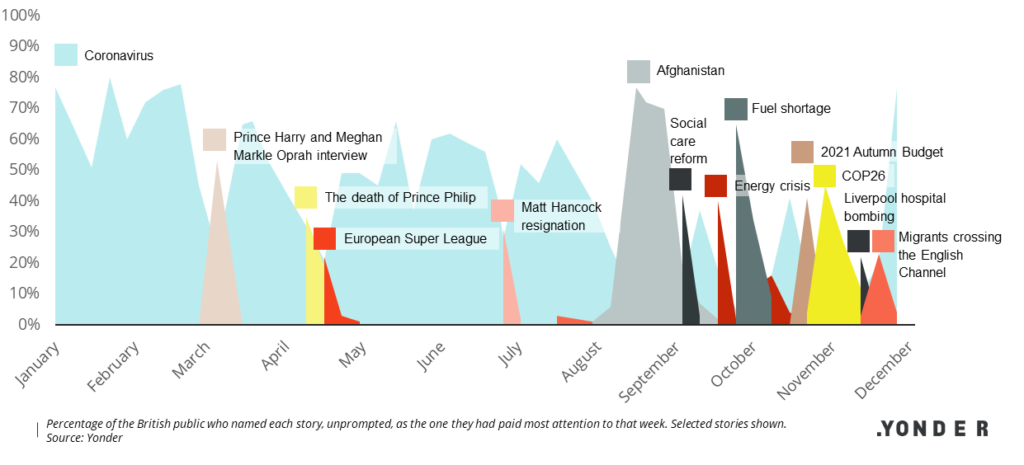 For businesses, it was seemingly impossible to impress a public taking little or no notice of their activities. What breaks through and sticks in the minds of the public is often negative stories about scandals, closures or criticisms.
The vaccine manufacturers are the exception to this rule, and their experience demonstrates how aligning your brand with successes can achieve striking results. Pfizer and AstraZeneca were two of the most noticed businesses of the year, helped by aligning their product brand with the business brand. After all, we were all offered the Pfizer-BioNTech COVID-19 vaccine and the AstraZeneca/Oxford COVID-19 vaccine.
The analysis below illustrates the business stories that gained traction over this year. Each week, we ask 2,000 nationally representative adults to name the businesses that had been most prominent in the news that week. Early on in the year, minds were focused on the vaccine rollout and so, Pfizer and AstraZeneca pretty much dominated public awareness. As the year progressed, attention turned to the store closures of John Lewis and Debenhams. AstraZeneca then hit the headlines again amid reported problems with the vaccine.
Most noticed businesses of 2021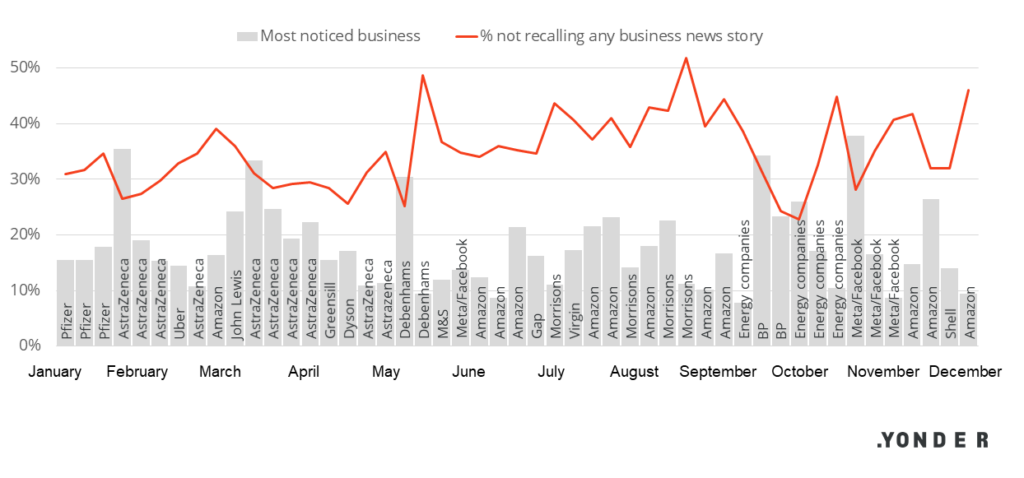 The summer was quieter, with a higher proportion of the public failing to recall any business story at all. However, Amazon was getting noticed for a mixed set of issues and sentiment – fines, space travel, growth and allegations of stock wastage. The last quarter of the year saw businesses come back into public awareness as headlines were dominated by the business reaction to fuel shortages (e.g. BP closing petrol stations) and by the impact of rising gas prices on the energy sector (e.g. energy companies ceasing to trade).
It's important to note that in most weeks, more than a third of the public fail to recall a single business in the news and that proportion is almost always higher than the proportion naming the most noticed business.
Frequently noticed businesses of 2021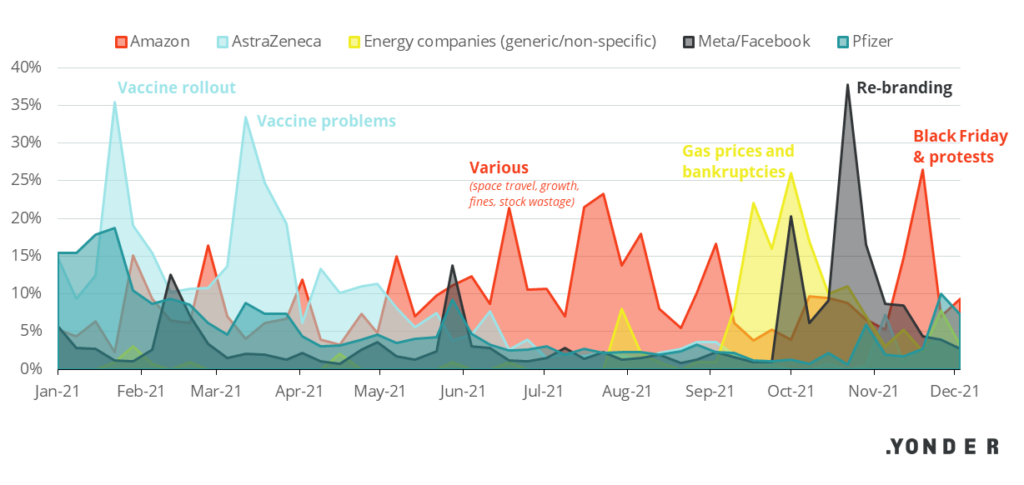 For most of this year, the business stories that attracted the most attention were negative, as has generally been the case in recent years.
Businesses face a huge reputational challenge. Attracting attention for the wrong reasons seems far too easy, and a reputation for the good that businesses do seems increasingly hard to reach. The vaccine rollout illustrates an exception to this and – although this year was perhaps an exceptional case – it does demonstrate that business can grab attention for positive reasons.
The top 10 most noticed business news stories of 2021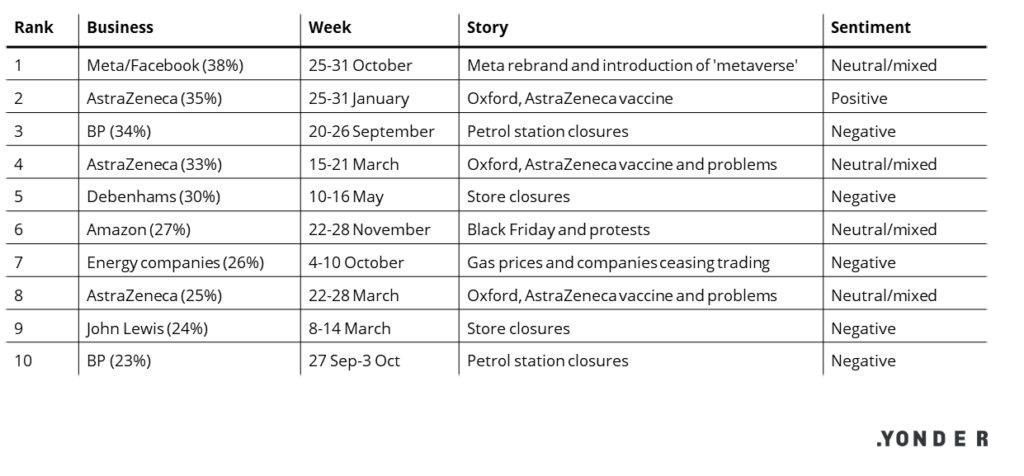 Facebook announcing its rebrand to Meta in October was the most noticed business story of the year. It was an announcement met with mixed response, but a stunning example of their ability to attract public attention – achieving instant new brand recognition, successfully setting them up for widespread understanding of their new strategic positioning and future product and service launches. There's little doubt we'll be seeing their name again here in 2022 as their business evolves and grows. Whatever your reaction to their evolution, it will generate huge levels of public awareness.
AstraZeneca featured regularly taking several positions on the league table (2, 4 and 8), but it was not all positive coverage. The rest of the year's biggest stories were also mixed or negative. Closures, protests and rising gas prices flooded public consciousness with resultant reputational challenges for BP, John Lewis, Debenhams, Amazon and the entire energy sector.
All of this serves to remind businesses of the difficulty they face in attracting attention for all their good work. Any opportunity to communicate positive news must be grabbed with both hands. For many, it may be better to simplify in order to amplify.
Of course, in order to simplify and amplify business communications, businesses need to build broad and deep understanding of their audiences. Through building such an understanding of audiences' backgrounds and behaviours and attitudes, businesses can begin to build communications strategies that actually cut through to audiences that – often – just aren't paying much attention.