The cost-of-living crisis is fuelling a period of deep economic hardship in which more people are being pushed towards poverty each day. In such times, people often look to institutions that are designed to alleviate them from these dire circumstances. But what happens when those very institutions sit at the heart of a financing dilemma? The charity sector – consisting of non-profit and voluntary organisations – is facing a textbook demand-supply challenge, where rising demand for its services is being met with lower supplies of charitable giving due to the cost-of-living context. Indeed, surveys conducted by the Charities Aid Foundation indicate that one in three charities are experiencing higher demand for their services, while donations have dropped significantly in comparison to pre-pandemic levels.
To withstand potential risks, charities must identify what it means to be resourceful and remain nimble during these trying times.
Evidently, rising demand for services is not within a charity's control – however, investing to expand and diversify avenues for giving is a strategy that is both effective and actionable. With so many changes taking place, charities must act promptly to ensure that consumers are presented with relevant and accessible ways to give, and this necessitates deep audience understanding.
The dual impact of the current economic climate on the charity sector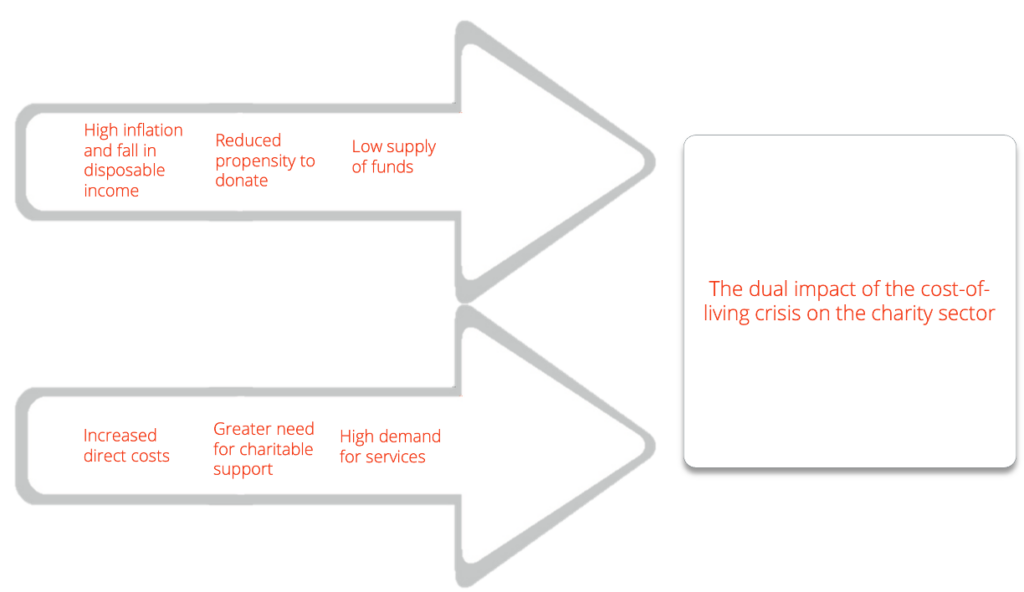 How can charities respond?
There are several key considerations for charities that want to drive giving during the cost-of-living crisis. This includes flexibility to keep up with modern platforms of communication, close engagement with relevant communities to incentivise collaboration and demonstrate impact, as well as bespoke messaging to ensure sensitivity to the difficult socio-economic conditions that the public is facing. A long-term strategy should entail measures to incentivise giving in this way and sustain donor bases beyond just financial planning.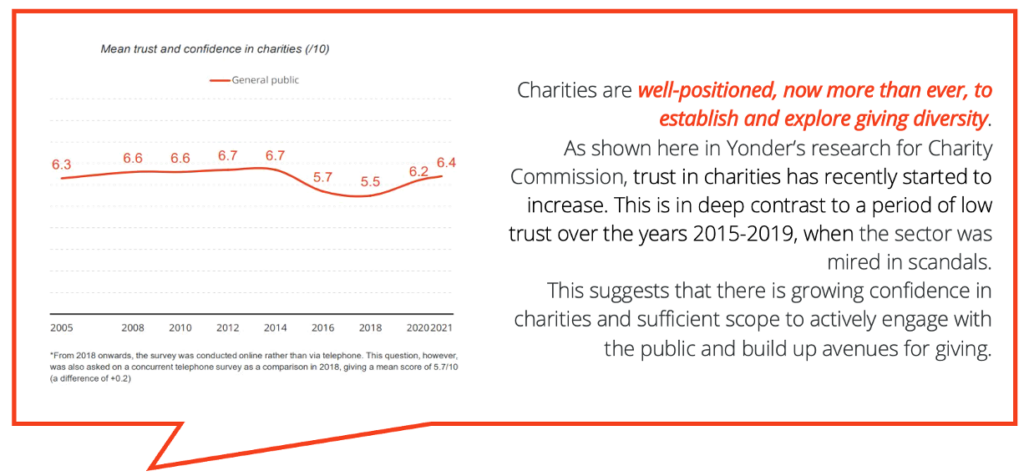 1) Enhance income diversity through a breadth of digital offerings
Social media, gaming, and other digital platforms are innovative ways of tapping into newer and younger audiences. Leveraging the youth's skills by partnering with advocates, junior volunteers or influencers can be a powerful strategy to uplift the charity's brand and unlock new fundraising opportunities. Leading charities have already made a head start by hosting 'gaming for good' initiatives, for example, which allows young people to raise money through online game play. Following the post-pandemic digital transformation, the options to gain digital visibility are at their peak, making this a worthwhile and relatively low cost investment. Understanding the charity's audience and entering partnerships upon careful consideration of culture and brand will deliver optimal results via these digital streams.
Beyond financial giving, it is also critical to think about other means of giving, which can be just as valuable.   
Now more than ever, charities have the opportunity to exploit these channels as many online processes can be accessed at little to no cost. Despite constraints on monetary giving, charities can explore options such as remote volunteering. Low financial barriers to doing so coupled with the potential for tangible impact makes it an attractive investment. The ability to offer time towards providing mentorship, companionship, mental health support, and administrative tasks are but a few examples of this. 
It is important to keep in mind, however, that innovative approaches should be complemented, and not replaced, with the tried and tested. For example, personalised email communications remain highly effective and hit the sweet spot with donors who might not be exposed to newer digital platforms, such as social media and gaming. Charities should therefore keep investing and adding value to these reliable approaches through CRM tools for effective and tailored emailing techniques.
Understanding your potential giving audience and their digital footprint is key here to ensure that potential giving opportunities aren't missed. 
2) Use a hyper-local communities-led approach to giving
To further elevate avenues for non-financial giving, charities must not overlook the immediate environment that it operates in. The benefits of a hyper-local approach are two-fold: First, engagement with local communities will give charities greater access to a close-knit pool of potential volunteers and advocates. Second, it is far more accessible for charities to tangibly demonstrate immediate impact at a local level, due to higher visibility and face-to-face interaction, and this is a key driver of giving. The effectiveness of these approaches were proven in the wake of the Covid pandemic, during which mobilisation at the very local level led to highly effective volunteer networks. Outside the realm of monetary giving, important contributions to charities can be made through advocacy and face-to-face volunteering. Physical communities at the grassroot level are likely to have success locally where there is more scope for trust and spontaneity. Unlike the pandemic context, charities today benefit from the lack of restrictions and potential lockdowns so opportunities in this space are even greater than what they were previously. Consequently, the impetus is that much stronger for charities to dig deeper and understand what is important to people at a community level.
All charities should utilise these localised avenues and digital streams, as discussed previously, to demonstrate impact. Through Yonder's research for Charity Commission, we know that the public's most firmly-held expectations of charities include the utilisation of funds for its main beneficiaries, the maintenance of high ethical standards, and impact. At the local and community levels these three factors are more observable and verifiable. In this way, local community engagement not only leverages local communities for volunteering but it can also help charities to promote and showcase local impact, which will in turn inspire trust and drive giving.
% who select each as one of their top three most important factors when it comes to how a charity operates, with change vs 2020: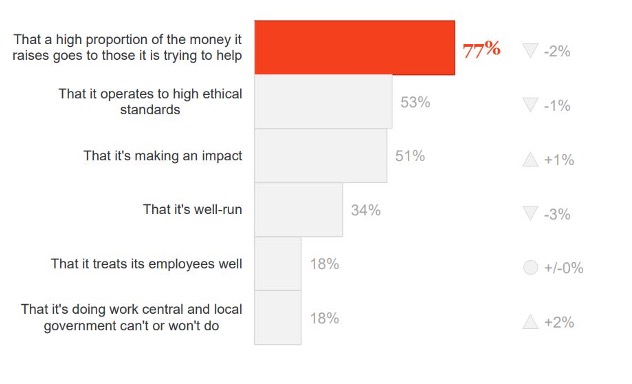 Visibility of local impact is a powerful driver of giving and success as a charity: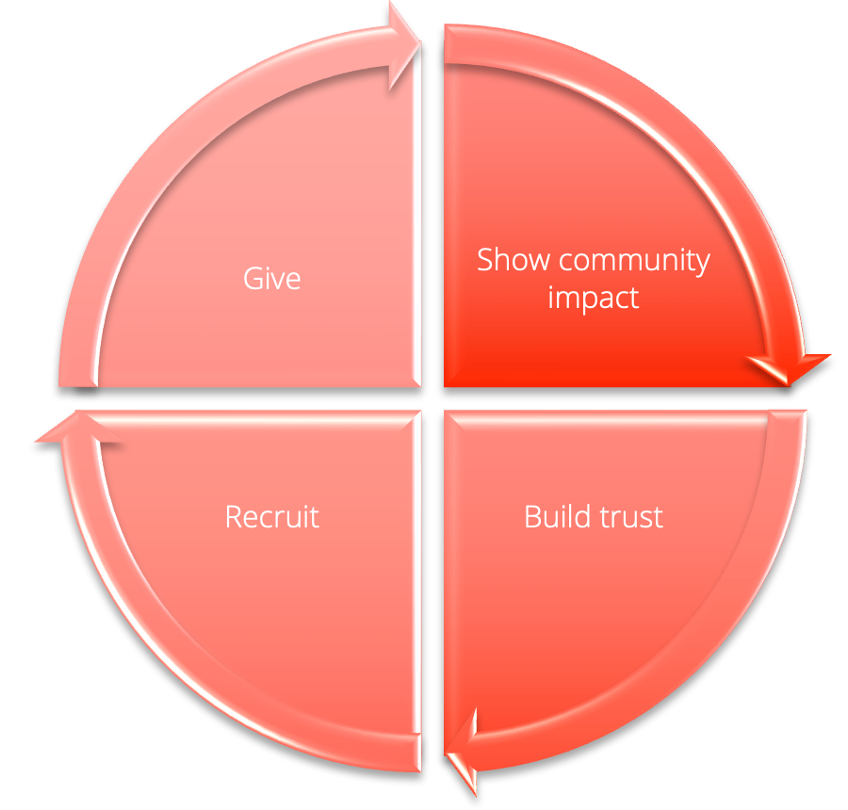 3) Communicate with intention & project authenticity
In this challenging environment, it is of utmost importance not just to promote giving but to do so with relevance and reverence to the current context. For some charities this could prove to be more challenging than others – specifically if their cause focuses on a niche that may not directly link to crisis flashpoints, such as arts and sports charities. However, the key is to ensure quality over quantity; targeting and tailoring communications will promote cut-through to the right people, at the right time, with the right messages.
There is more strategic value in prioritising and focusing engagement – particularly in a highly volatile environment where one wrong move can attract mass negative criticism. This has been observed already with high-profile sectors, which have received mass-scale criticism for communicating in a manner that is deemed to be tone-deaf in relation to keeping warm or cutting costs. In an increasingly polarised world, it is also vital to have an in-depth understanding of which audiences might be more receptive to donating during this time. Our proprietary demographic tool, Yonder Clockface, reveals that specific segments of the public are less impacted by the cost of living crisis and are more likely to carry on with typical spending patterns, whereas others have had to significantly change day-to-day behaviour. Understanding who these audiences are, at a local level, can help create tailored messages that do not offend.
These are challenging and complex nuances that can be best understood by speaking to key stakeholders about what the nation is evolving to feel, and predict public opinion, current opinions, and their perspectives on key issues. Many charities have multiple streams of impact so it is also vital to understand which impact messages they should shout about versus which ones are more suited for a less volatile economic climate. Tracking stakeholder opinion will help charities to pin down these distinct elements and help identify the proof points that will promote messages which have the capacity to incentivise giving.
The key takeaway
To ensure long-term resilience of the charity sector, diversify ways of speaking to audiences through the following approaches:
Invest in a variety of digital streams to receive both monetary and non-monetary support from different audiences with different digital footprints
Adopt a hyper-local approach to raising money and create opportunities for volunteering in a way that demonstrates impact
Diversify communications to ensure relevance and reverence based on audience variation