Public attention in the UK has been focused on the coronavirus pandemic more or less consistently since February.
The British public is closely following new restrictions set out by the government to curb the much-feared second wave of infections. In early October, public attention focused on specific local restrictions and more nationwide measures such as the closure of hospitality venues at 10 pm. As the infection rate went up throughout the month, speculation about a potential new national lockdown gathered steam.
Even before it was known there would be a national lockdown, more than 80% of the public chose coronavirus as their most noticed news story.
While most people are still focused on coronavirus, some have been looking across the Atlantic.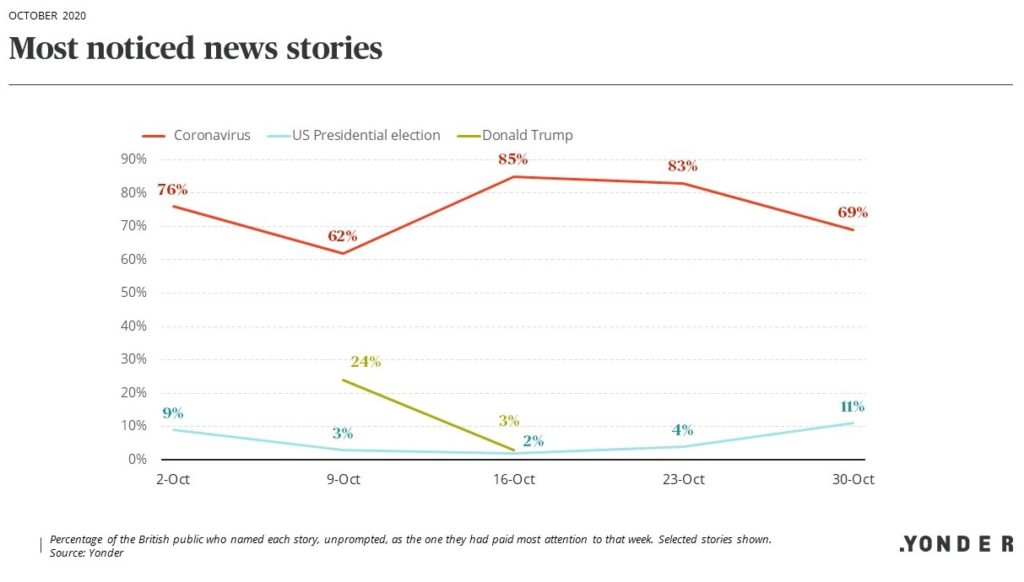 With news of Donald Trump catching coronavirus on October 2nd, the US President drew public attention away from the situation in the UK while mentions of his and his rival, Joe Biden's campaigning has grown steadily in the last two weeks.
With Election day now here, it will be interesting to see whether public attention could be taken away from coronavirus. And, if so, how long will this last?