How to attract and retain talent in a candidate-driven market
Businesses are still facing acute talent acquisition and retention challenges. Understanding the changing push and pull factors for employee retention is more important than ever, so we sought insights from 2000 UK adults to find out what's really driving decision making in today's workforce and how businesses can respond.
A candidate-driven market
The stakes are high. In the UK, the number of individuals dropping out of the labour market is still rising. Whilst vacancies are falling in some areas, skills shortages persist in many industries, threatening to undermine recovery and the delivery of strategies everywhere. But the old tactics for talent acquisition no longer apply. The pause many were granted by the pandemic forced a mass re-evaluation of priorities, and the dynamics have shifted. As Covid-19 restrictions lifted in the UK, we found ourselves contending with the rising cost of living, the war in Ukraine, political instability, and the spectre of recession. Whether we're aware of it or not, these forces are all shaping the underlying attitudes, values, beliefs, desires, demands, concerns, and expectations of the UK workforce.
It remains a candidates' market. The response from employers has been mixed. Some are bending over backwards to deliver on demands around pay and flexibility, whilst other headline-stealing brands like Twitter and Meta are taking the power back and making waves with their controversial people policies. Each business must find its own way.
This is a hot topic for many of our clients. Across sectors and geographies, it seems everyone is investing in culture and making themselves more magnetic to their target talent. Our advice is always the same. Before shaping your strategy, take time to listen to what people really want, and understand the push and pull factors influencing people's decisions. Take on board feedback from exit interviews to dig a little deeper into reasons why people leave and seek employee engagement opportunities (such as employee surveys, discussion forums and continuous feedback mechanisms) to gain deeper insights into how your staff feel about their working environment.  
The top 5 push and pull factors affecting employee retention and talent attraction
We surveyed 2,000 UK adults* to get a snapshot of the current mood and get closer to these shifting dynamics.
Nearly half of them (4 in 10) said they're looking for, or considering, a new job. This is consistent with other studies such as the Microsoft study (2021) that predicted 41% attrition. This is great news if you're looking to recruit new talent, not so much if a percentage of those respondents already work for you. There will always be a hardcore of people in the population who remain disengaged and averse to work, but there will also be a significant number whose minds can be changed. This is the job to be done.
Below is a snapshot demonstrating the top push and pull factors affecting employee retention and talent retention.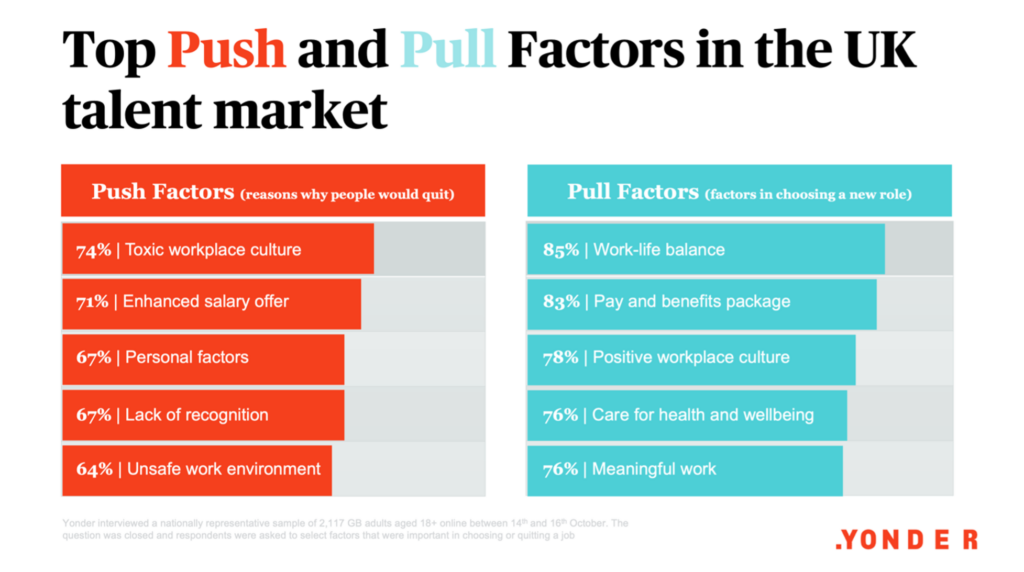 More than money
In the new world of work, people know what they want, and they aren't afraid to ask for it.  Unsurprisingly, our study showed that a competitive salary and benefits package remains a top priority. Pay negotiations intensified for many businesses in the past few years, with many inflating salaries to compete. However, our study highlighted what we suspected: the new deal is about so much more than pay and benefits – it's about culture, work-life balance, and the opportunities on offer.
Work-life balance
Nearly two thirds (85%) of survey respondents told us they want work-life balance, with 63% saying this wasn't something they currently experience.
It's important to note that the meaning of work-life balance is subjective – we must dig deeper. For some it means more flexible hours, and for others, a sabbatical or time to invest in our passion projects, friendships, and family lives. Different industries present unique challenges. There's no one-size-fits-all approach.
While it's essential to understand what work-life balance looks like to your people, it's equally important to ask what level of flexibility you can offer within the parameters of your business and operational reality. Leadership teams are therefore tasked with weighing up competing priorities, shaping People strategies that meet business objectives whilst taking customer and employee realities into account.
The culture clincher
Organisational culture is the clincher when people are choosing who to work for. Our study showed 78% thought a positive workplace culture was important to them when choosing where to work. Conversely, 74% would quit their current employer because of a toxic workplace culture.
Praise for Glassdoor's Top 50 Companies to Work For (Employee Choice Awards) focuses heavily on the importance of honesty, transparency, inclusion, and a purpose employees can really get behind. In other words, they favour a 'positive' workplace culture, and businesses need to understand what that means to their talent.
On the flip side, micro-management, poor leadership, workplace bullying, or active discrimination are just a few of the factors that contribute to 'toxic' company culture. Whilst most businesses worth their salt have doubled down on equality, diversity, and inclusion (ED&I) in recent years, some of these dynamics are hidden and stubbornly resistant to change. When these aspects are an issue, it's vital to examine the whole system – including the behaviour that is tolerated, even incentivised – and be bolder in our strategies to evolve and tackle high employee turnover rates head on.
Magnetise talent, magnetise success
This study is a snapshot of a moment in time. Everything is continuously evolving. And to be successful, your business must too. We work with organisations to close the gap between the culture they have and the culture they need in the future.
For many businesses, there is a sense of urgency around culture and employer branding. If you have a critical people strategy to deliver, we believe it's vital to invest in shaping a leading people experience – ideally to a level that strives to match investments in the customer experience.
Because at the end of the day, we are nothing without the people who drive our businesses and brands forward. Get the inside right, and the rest will follow.
*Survey conducted October 2022