According to Ofcom's April 2023 research, social tariffs [1] are available to an estimated 4.3 million UK households but have currently only been taken up by 220,000. This situation has prompted commentators, policymakers, and regulators to call on telecommunications companies to proactively promote and enhance awareness about their social tariff offers to ensure that broadband remains accessible and affordable to the most vulnerable. While there has been some progress since January 2022, as take-up has quadrupled indicating a positive trend, the overall picture remains less promising with just 5.1% of the eligible population signed up to these discounted offers.
However, the eligible population for social tariffs cannot and should not be viewed as a homogenous group. Other factors such as age, digital skills, household income and overall need, appetite or perception of broadband connectivity all play a role in consumers' likelihood to take up any contract, let alone a social tariff.
Another important distinction is the variation between the eligible population that is 'in-market' and those who are 'offline'. The UK already has a high level of broadband penetration, with 2023 Ofcom data showing that 93% of households have internet access at home (including those who access broadband via mobile only). This suggests that a substantial proportion of the eligible population not yet on a social tariff likely belong to the 'in-market' category, making it essential to understand their specific attitudes and behaviours. This is especially important for policymakers who seek to understand the role of social tariffs in improving broadband affordability for financially vulnerable customers [2].
As such, this paper will primarily focus on this group – the digitally included online population eligible for social tariffs – which comprises individuals currently using broadband but not officially on a social tariff. It will explore the potential drivers for the current low uptake of social tariffs, as well as the evidence which shows that:
Many eligible households are navigating the market well and already pay a 'social tariff' price for their broadband, whether it is badged as such or not
Those already in market recognise and value the usefulness of broadband and so prioritise it in their spending
Many have other services bundled with their current offer, which may be incentivising them to stay on their current service, rather than switch to a social tariff
Eligible households interpret price as a marker of quality and so have doubts about the quality of cheaper tariffs
In a separate section of this paper, we will also briefly address some of the barriers faced by those who are both financially vulnerable and not online, especially the low-income group that are digitally excluded. While cost and affordability are key barriers, research has shown that some of this group is also influenced by other factors, unrelated to price.
Part one: the digitally included – eligible households that already have broadband
Understanding why there might be low motivation to take up social tariffs among those eligible who already have broadband is critical for policymakers and internet providers as they consider what interventions are needed to support households to get or stay connected and how best to design them. There are two key levels to this analysis:
1. The existing broadband market and choices available to customers.
2. Perceptions and attitudes among the eligible population.
Where do social tariffs fit within an already competitive broadband market?
Currently, there are 27 social tariffs on offer across a wide range of providers. BT's social tariff 'Home Essentials', for example, comes with broadband and a landline at £15 per month for an average speed of 36Mb, or £20 per month for an average speed of 67Mb. By 2023, BT was providing more than 85% of social tariffs in the market, making it the sector leader in this respect. However, when comparing social tariff prices with the cheapest commercial tariffs available on the market – Enders Analysis finds that the saving ranges from 12% to 29% depending on the provider. Indeed, in some cases, the social tariff is priced at a higher rate than the cheapest available options:
Figure 1: Broadband social tariffs (Source: Enders Analysis, company reports)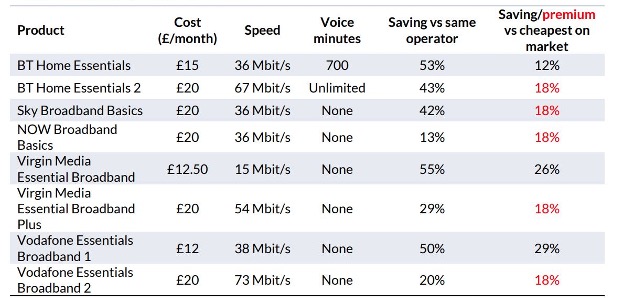 So, although being on a social tariff can lead to potential savings, the magnitude of the saving would depend on the type of package and service provider and will not be true for all in-market customers. In particular, the financially vulnerable who are most in need of social tariffs are likely to be searching and opting for the cheaper ranges in the market, rather than necessarily seeking out a 'social tariff' by name, making the potential savings from a social tariff marginal or, in some cases, not applicable at all.
Such offers are also frequently reviewed and listed on consumer welfare sites, such as Money Saving Expert as shown below:
Figure 2: Broadband packages listed on consumer welfare sites (Money Saving Expert 2023)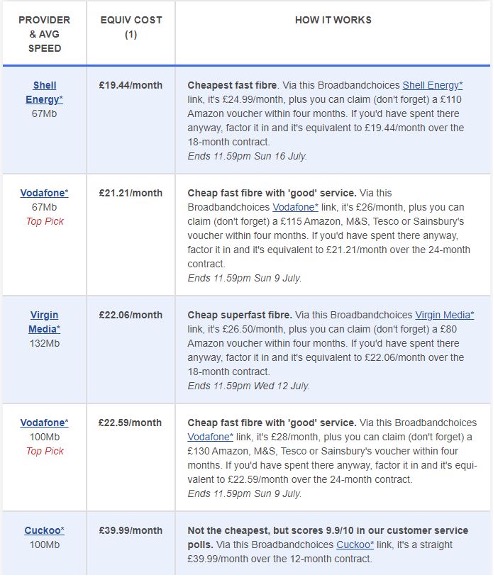 In addition, there are other flexible plans available in the market, such as bundled packages of some combination of broadband, mobile, landline calls and TV, which (as Enders notes) often provide consumers with lower prices for each element, than buying them separately would, sometimes at social tariff prices for broadband. Research from Yonder and Ofcom shows that, among eligible households, TV is a key driver in buying these bundled services. This suggests that at least some customers may be reluctant to change or give up their TV services for cheaper broadband. Furthermore, as noted by Enders Analysis, the motivation to switch to a social tariff that would offer only a broadband service or is not the same as a household's existing TV service, may be overshadowed by bundled packages which can be equally or more cost-effective overall.
Yonder's research among financially vulnerable customers in 2021 has, qualitatively, evidenced this effect: i.e., already being on a cost-effective package or bundle of services (where buying in combination often offers better prices than buying services individually) reduces the motivation to take up a broadband social tariff:
 "I have a superfast connection already for less than £20 because it is part of my TV package."
"I can get all I need on my current contract at the same price."
"I've already negotiated a £20pm broadband subscription not dependant on qualifying for a social tariff."
"We already pay less than this for our service."
"I currently only pay £21. It is discounted as I already have a mobile phone contract with Vodafone. So, this [social tariff] offer, although a great idea, doesn't seem particularly cheap."
If the core priority is to ensure that the financially vulnerable are able to access broadband at social tariff level prices of around £20 per month through the broadband market, then the open market (via competitive offers in the telecoms sector) is very likely serving many more households than the estimated 5.1% that are currently on a service that meets Ofcom's 'social tariff' criteria.
Indeed, GfK research commissioned by BT Group, indicates that approximately 19% of UK households with a total family income of less than £20,000 pay under £20 per month for their broadband. This suggests that there are many eligible households that are effectively on a service that meets Ofcom's 'social tariff' price standards, even though their current package may not be officially labelled as such.
What role does broadband play in the lives of the financially vulnerable?
Yonder's 2021 work revealed that financially vulnerable customers with broadband consider it essential and so prioritise it versus other areas of discretional spending if necessary.
Out of a range of services used in everyday life by the financially vulnerable, having access to broadband was considered more important (87%), compared to mobile (81%), Freeview TV (54%), bus services (45%), and train services (32%). Respondents also cited how useful broadband is when completing a variety of tasks including managing finances (79%), utility bills (72%), learning new things (69%), and accessing healthcare (50%).
According to Ofcom's latest affordability tracker just 1% reported having completely stopped spending on broadband altogether.
The above evidence around how prices compare, and the importance placed on broadband suggests that many of the in-market financially vulnerable group are navigating the market well, to find the bundles and offers that work for them to stay connected.
Is price a strong marker of quality in customer minds?
In addition to understanding the buying patterns of those in the existing broadband market, it is also important to delve into consumer perceptions and attitudes that might interrelate with social tariff uptake.
One of the key challenges when targeting the 'in-market' population is convincing them that social tariffs or the idea of 'cheaper' broadband would not necessarily equate to a compromise on quality. Ofcom research in 2022 on communications affordability highlights concerns among the financially vulnerable that cheaper broadband options might be less reliable, making it one of the top five barriers to social tariff uptake. Specifically, there were notable apprehensions regarding buffering issues and a perceived decline in service quality with cheaper tariffs. A considerable portion (42%) of eligible customers, agreed with the notion that "since social tariffs are cheaper, they are less likely to be reliable", while 27% remained uncertain.
Consumer welfare groups, including Which?, have gathered similar insights related to social tariff adoption and concerns around its quality:
"When we asked customers who are both eligible for social tariffs and aware of them why they hadn't taken one up, the main concern centred around broadband speeds. Some 44% of those who had chosen not to take up a social tariff told us this was because they thought speeds offered were too low." [Which; 2022]
Breaking away from the preconceived notion that cheaper tariffs are of lower quality will be especially challenging if this group has high requirements or expectations around speed. Ofcom research indicates that this might be the case – revealing that 62% of those who are eligible for social tariffs require "superfast broadband" speeds. While internet providers including BT, Virgin Media, Community Fibre and Vodafone all offer a superfast speed social tariff, breaking the association between price and quality at scale is a challenge. This is because customers are not always diligent in identifying the technical specifications of their broadband package, or understanding what they need to be able to complete their day-to-day tasks.
Challenges related to perceptions of quality also feature in Yonder's research among financially vulnerable customers. When asked about the most important features in broadband social tariffs, respondents frequently cited factors related to quality with the top three emerging as:
1) an internet connection that doesn't drop out, 2) unlimited data allowances, and 3) fibre broadband speed suitable for streaming videos.
Qualitative insights from the same study show – in more explicit terms – that concerns regarding quality impede the uptake of broadband social tariffs among the financially vulnerable population. Apprehensions around quality, speed, and capacity featured prominently when asked why they were unlikely to take up broadband social tariffs:
"It seems too cheap to be useful."
"A tariff like this would not be suitable for my needs or situation."
"I need reliable internet to connect several devices at the same time."
"The internet speeds would be far lower than my usage requirements."
"The speed of the internet and quality of the overall product would be worse than what I currently have."
"It might not offer the speeds I need for the things I enjoy doing."
"I'm happy to pay something extra for better speed."
As part of the same study, Yonder used an established price sensitivity tool to understand the range of broadband affordability. This quantitative research showed that prices below £21.60 are considered 'too cheap', reinforcing that price impacts perceptions of quality. As previously shown in Figure 2, the open market offers broadband packages that are similar to the price level deemed as the 'optimal price' – £21.90:
Figure 3: Broadband customers' ideal price range (Source: Yonder Consulting)
Existing research also indicates a sense of apprehension or confusion regarding whom social tariffs are intended for. This has been noted among financially vulnerable customers who assume that these social tariffs are meant for those who are on a lower income and, consequently, more financially vulnerable than themselves. Ofcom's communications affordability research, for example, shows that one of the main barriers to social tariff uptake is a sense that the tariffs are not "aimed at households like theirs". Of those who were eligible, 46% felt that social tariffs were not meant for them. Yonder's work among the financially vulnerable also tells this same story. When asked why they were unlikely to take up social tariffs, some insinuated that they were not the target group for a social tariff, even though they would be considered eligible under the programme. Such perceptions contribute to voluntary opting out behaviour based on self-assessments of financial status:
"I don't know why my provider would offer it to me."
"I do not think I need it."
"I would prefer the offer to go to someone who needs it and will benefit from it."
Enders Analysis suggests that these attitudes may reflect a desire not to be labelled, specifically among households that regard their benefits as "a temporary measure".
Part two: the digitally excluded – for financially vulnerable households without broadband, price isn't the only barrier
The group eligible for social tariffs but not online – the digitally excluded – are a much harder group to reach for research purposes due to the fact that they are offline. This group is, at times, more financially vulnerable and are often older compared to those who are digitally included.
BT Group has worked with charities and parts of Government to run pilots that offer fully funded broadband to financially vulnerable working age households. Yonder has carried out a review of one of those pilot programmes which revealed important insights about what drives or prevents people from signing up for broadband, in a context where affordability is removed as a barrier.
Among these very low-income groups, broadband is at times seen more as an entertainment amenity rather than an enabler of better quality of life via educational material or money saving ability. Moreover, some of those approached with the offer were reluctant to engage with the scheme due to the requirement to hand over banking details, and /or when the details are not fully understood due to poor spoken/ written English. Indeed, success was found to be dependent on the ability of facilitators making the offer to form positive relationships with eligible households.
While those who did take the offer reported positive experiences to Yonder, these additional non-price related barriers meant that uptake of funded broadband was lower than expected.
The pilot with the best uptake rates of fully funded broadband is operated by the charity Buttle UK – a charity dedicated to those living in financial hardship and dealing with various social issues. Its approach is for a key worker to build a relationship with the household they are supporting, with a remit to support on any or all the issues they are facing. In that context, funded connectivity is offered if appropriate, with a person already in place to support through the sign up and set up process, and to find appropriate resources to develop skill, if necessary.
In conclusion
Based on the available evidence, several important findings emerge regarding the adoption of social tariffs among those who are eligible and are currently buying broadband:
1. Open market offers vs. social tariffs
In many cases, open market offers that are similarly priced as social tariffs are more attractive to financially vulnerable customers. Consequently, the general competitiveness of the existing broadband market likely outweighs what could be perceived as a 'marginal' benefit of being on a social tariff.
2. The impact of pricing on quality perceptions
There is a perception among consumers that links price with the quality of the broadband service. Although social tariffs are designed to offer affordable options, concerns about potential service limitations or reduced quality compared to higher priced plans remains a challenge.
3. Other attitudinal and perception barriers
Assumptions and misconceptions about who social tariffs are intended for also impede uptake among the in-market group which is even more likely to be the case if very wide criteria are used for social tariff eligibility. Indeed, Enders Analysis has taken the position – based on its own analysis of survey data – that the current eligibility for a social tariff is "around ten times as broad as those experiencing (or at risk of experiencing) digital exclusion".
4. For the digitally excluded and financially vulnerable, price isn't the only barrier
Among very low-income groups that are digitally excluded and likely cannot afford any broadband, even a social tariff that is fully funded did not automatically result in uptake, as other factors emerged as barriers.  
---
[1] Social tariffs are discounted broadband or mobile packages that are available to households deemed to be financially vulnerable – typically receiving at least one of the following benefits: universal credit, pension credit, guaranteed credit, employment allowance, jobseeker's allowance, or income support.
[2] Many of the insights about the financially vulnerable, referred to in this note, are extracted from Yonder's affordability research which was commissioned by BT Group in 2021. This entailed a quantitative survey with 900 respondents who are financially vulnerable (i.e., receive government benefit and or tax credit) and have either home broadband or a mobile phone carrier.
References
Barford, James et al via Enders Analysis (2023). Social tariffs: on the edge of reason. Enders Analysis. July 2023. https://www.endersanalysis.com/reports/social-tariffs-edge-reason
BT Group, Home Essentials. Stay connected with our low-cost broadband and phone plans. Accessed July 2023. https://www.bt.com/broadband/home-essentials
Buttle UK, Chances for Children. About Us. Accessed August 2023. https://buttleuk.org/what-we-do/our-services/
Fletcher, Yvette. Which? (2022). Four common misconceptions about broadband social tariffs. December 2022. https://www.which.co.uk/news/article/four-common-misconceptions-about-broadband-social-tariffs-aNleg5E4wviG
GfK Tech360 Survey Data Q3 2022 – Q2 2023. Analysis of household income by spend on solus broadband: Base: All with a household income of less than £20k who have a solus broadband connection (n=7,582)
Knight, Chris. Money Saving Expert (2023). How to find cheap broadband deals. July 2023. https://www.moneysavingexpert.com/broadband-and-tv/cheap-broadband/
Ofcom (2023). Social tariffs: Cheaper broadband and phone packages. https://www.ofcom.org.uk/phones-telecoms-and-internet/advice-for-consumers/costs-and-billing/social-tariffs#full-list-of-available-tariffs
Ofcom (2023). Half of low-income households in the dark over broadband social tariffs. April 2023. https://www.ofcom.org.uk/news-centre/2023/half-of-low-income-households-in-dark-over-broadband-social-tariffs
Ofcom (2022). Affordability of Communications Services September 2022 Update. September 2022. https://www.ofcom.org.uk/__data/assets/pdf_file/0019/244513/2022-september-affordability-of-communications-services.pdf
Office for National Statistics (2020). Internet use in the UK; annual estimates by age, sex, disability and geographical location. April 2021. https://cy.ons.gov.uk/businessindustryandtrade/itandinternetindustry/bulletins/internetusers/2020
The Guardian (2022). BT asks ministers to help pay for low-cost broadband for poorest customers. November 2022. https://www.theguardian.com/business/2022/nov/27/bt-asks-ministers-to-help-pay-for-low-cost-broadband-for-poorest-customers  
Yonder (2020). Championing fairness in Pay TV. November 2020. Accessed via Yonder Consulting.
Yonder (2021). Ensuring a fair and affordable service for financially vulnerable audiences. April 2021. Accessed via Yonder Consulting.
Yonder (2022). Societal Leadership, Narrative Development. General Public Insights. September 2022. Accessed via Yonder Consulting.
Yonder (2022). Strategic Reputation Framework: Professional Opinion Formers Analysis. Q2 2022/23. October 2022. Accessed via Yonder Consulting.
Yonder (2022). BT Social Tariffs Voucher Pilot Review. July 2022. Accessed via Yonder Consulting.