As we move from the UK's second lockdown toward the tiered restrictions of the coming months, there is no denying that the impact of COVID-19 on the nation's businesses has been and will continue to be immense. Some businesses have seen their earnings and share prices plummet amidst expectations that it will take years for them to recover, whilst others have seen sales and revenues boom as consumer behaviours changed. Similarly, just as some businesses have come out of the pandemic with reputations severely diminished, others have boosted their reputations to new heights. But which businesses, and why? And importantly, what can companies learn from this?
Yonder regularly conducts research among senior audiences and, in July and August, we interviewed 100 senior stakeholders – including politicians, leading business journalists, and opinion-shaping NGOs – to gauge their views on the impact COVID-19 has had on the UK's businesses and their reputations. That research found that supermarkets were very much at the forefront of stakeholders' minds as the businesses that have come out of the crisis with their reputations enhanced, while airlines were among those mentioned as having faced a backlash.
Supermarkets become superheroes
In trying times, people tend to revert to what is most important to them to get by. Belts are tightened and non-essential spending is reduced. Maslow's Hierarchy of Needs provides a lens through which to identify our core needs. At the base of this hierarchy are basic needs, such as access to food. Perhaps more than any other, this basic need was laid bare in every local supermarket across the country during the early stages of the pandemic. Widespread concerns about access to food saw panic buying and stockpiling quickly spread, which left shelves empty.
This situation presented a challenging scenario to UK supermarkets, and they were forced to draw up "battle plans" in order to "feed the nation". [1] This became their rallying call, and their single-minded focus on this core purpose – supported by frequent and clear communication – helped supermarkets to strengthen their reputations throughout the months that ensued.
Yonder's research highlights that the ability of supermarkets to adapt and respond to the new circumstances imposed by the pandemic has been a central pillar to their reputational rise during 2020. When asked which businesses or sectors came out with their reputations enhanced, senior stakeholders most frequently praised supermarkets:
"The supermarket sector has done really well throughout all of this. It was a massive challenge they faced, and they've basically done ten years' worth of development on online shopping and deliveries in about six weeks. They have done amazingly well. They prioritised the vulnerable. They managed to make it so that some households have not had an interruption in online shopping throughout the whole period, which is quite impressive. The supermarket chains have risen to the challenge really well."

Business Journalist
"Supermarkets were at the centre of it at the outset when people were panic buying, and they managed that really well. They managed the transition from empty shelves of toilet paper to calming everybody down, bringing in more staff, adapting their stores to make them safer. That's definitely a winner out of this, as an industry."

NGO
"The supermarkets have done really well. They seem to have managed the pressure they were under really well and treated their communities with respect."

NGO
"Iceland were the first ones to do these dedicated shopping hours and to do the NHS discounts. They did that almost straightaway, so really led the way on it. I saw a couple of surveys in the first week of April, and everyone was saying Iceland are brilliant – saying it follows the social distancing, you know what time you can shop, and the shelves are stocked. M&S have done really well as well, because they were the first ones to team up with Deliveroo to get all your basics delivered to the house."

Business Journalist
Supermarkets shored up supply lines, expanded hiring (Tesco alone hired 20,000 new store workers to deal with an "unprecedented" demand [2]), and introduced shopping quotas, but perhaps most importantly, they made their products accessible for customers. They did so through a massive expansion of online infrastructure to help cope with the increase in demand for online shopping. They also ensured that their brick and mortar stores were safe for both their staff and customers, and safeguarded accessibility for the elderly and vulnerable by implementing priority store hours. Supermarkets also met the request of the Government to deliver food boxes to over 1.5 million vulnerable people.
The response of the supermarkets was not lost on the public either. From March, a majority of the public consistently told Yonder in its weekly COVID-19 tracker polling that Sainsbury's and Tesco were handling the pandemic well – in contrast to airlines, who they believed to be handling the crisis poorly by late April. As a consequence, supermarkets, such as Sainsbury's, saw an improvement in their reputations, which was maintained throughout the first lockdown and into the summer when restrictions started to ease, indicating a consolidation of public opinion.

Airlines take a nosedive
The chart above illustrates perhaps the most contrasting stories of public perception to take place this year. By June, COVID-19 had caused a 97% decrease in air travel. [3] Some airlines drew up plans for large-scale redundancies [4] while also taking advantage of the Government's Coronavirus Job Retention Scheme and delaying customer refunds, which further soured public and stakeholder opinion. From April, perceptions of the airline industry deteriorated greatly, reaching their lowest point in early June.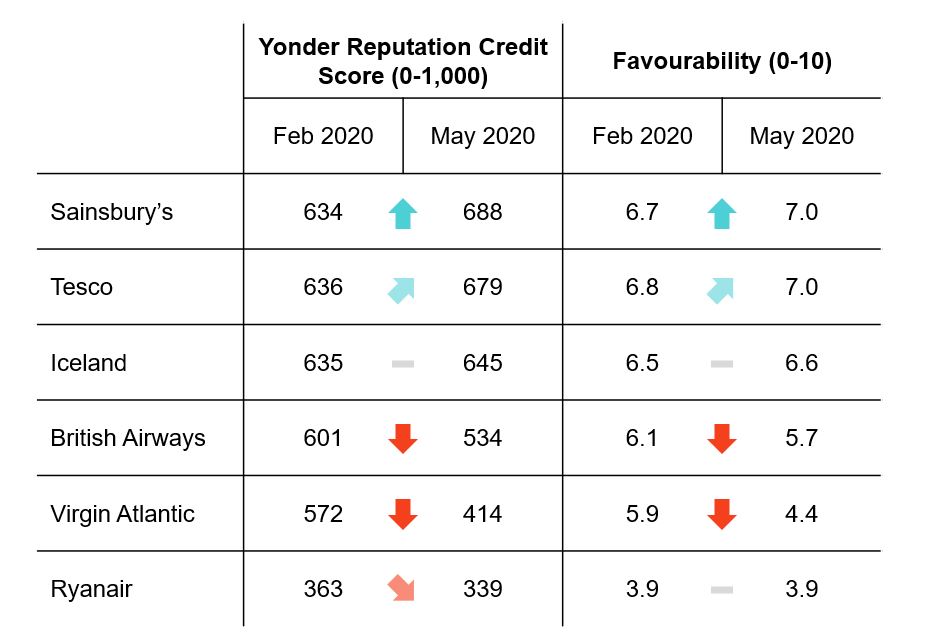 Yonder's reputation research illustrates both the rise of supermarkets and the precipitous fall of airlines. From February to May 2020, Sainsbury's saw an 8% increase in its Reputation Credit Score, and Tesco's score increased by 6%, whilst airlines like Virgin Atlantic and Ryanair saw declines of 28% and 7%, respectively.
Some of the UK's leading stakeholders and opinion-leaders further echoed the public's disappointment in the aviation industry. Among those interviewed, they frequently mentioned airlines as businesses that emerged from the crisis with their reputations tarnished.
"Aviation is a big one. easyJet have paid out a dividend and then fired loads of people! It's just shocking. It's just really stupid and crass – the idea of getting the begging bowl out straight away and then not offering anything in return. Where is the social value? They don't seem to have properly recognised it."

NGO
"Some of the airlines, like Ryanair and British Airways. They were throwing a tantrum and publicly having spats with the Government."

NGO
"Airlines. Partly because of how poor they were at getting UK nationals brought home."

Member of Parliament
"There's been a lot of buck passing in insurers and the travel sector. The travel sector has been hit hard, but they've behaved quite badly. They haven't been paying people back when they promised it, they've been going against consumer trading laws and only offering vouchers. There has been some really bad tactics going on, and the job losses to add to that when they've been taking government support money. They've not come out of this well."

Business Journalist
Along with the mishandling of customers, these senior stakeholders also criticised airlines' treatment of their staff, pointing to redundancies affecting tens of thousands of individuals across the industry, as well as their prolonged challenge to government travel restrictions during the pandemic. At the heart of airlines' difficulties, however, was the removal of their core purpose. Supermarkets emphasised their core service – to feed the nation – during the pandemic, and they delivered on this. The pandemic and the restrictions on international travel, meanwhile, meant that airlines effectively became purposeless businesses, and the dispiriting arguments with government and customers followed.
Some lessons
During the early stages of the pandemic, the public and media held up a microscope to businesses and their responses. Their reactions were publicised and scrutinised, while people's experiences were discussed in homes across the country. The public were more attuned to any missteps, or equally, successes that businesses had in their response.
Above all else, the ability of supermarkets to demonstrate their role as an essential service for the country and to deliver that purpose under the most trying circumstances were at the centre of their reputational rise. The pivot to greater online delivery, as well as shoring up their physical stores and being able to deliver to vulnerable customers, was crucial.
This adaption has created significant positive feedback loops. Proving to customers that the shelves would remain stocked demonstrated the competence of supermarkets to deliver. This success installed trust in the supermarkets. This trust is vital and meant that shoppers were less inclined to panic buy during their visit, which in turn lessened the burden on demand for supermarkets. This ensured continued and consistent access for customers, which finally, at a very basic level met one of their most important needs.
For supermarkets it is likely that this trust will continue to reinforce positive reputations beyond the pandemic. The question for them is how they can maintain and build on their reputations as the perils of the pandemic and people's reliance on them begin to lessen. Their decisions to repay business rates relief would suggest they are keen to not spoil a year of reputational improvements. [5]
The response for airlines during these times is undoubtably more difficult. In a time of uncertainty, the idea of travel seems less tenable and less important than a year ago. In a very practical sense, how do airlines adapt to this current reality? What is their purpose during these times? What vital need are they fulfilling for their customers? Whilst supermarkets rallied around a strong purpose, an equivalent purpose was deprived from airlines. Added to this, much of the public also have a sense that during this pandemic, the airlines could have done more to look after not only them, but also their own staff.
It is through no fault of their own that airlines have suffered this year, and that for many of its former customers, they have simply lost relevance. At their core, airlines are about connecting people and the world. In a year where people have been in isolation in every sense, this core purpose could be seen as quickly returning to the top of our priorities. People have been disconnected from their loved ones, and the UK seemingly isolated from the world. Looking to the future, airlines need to consider how they best communicate this core purpose so that when travel corridors reopen, they once again ascend.
---
[1] https://www.telegraph.co.uk/business/2020/08/18/just-incredibly-touch-and-go-supermarkets-kept-food-shelves/
[2] https://www.standard.co.uk/news/uk/tesco-jobs-20000-coronavirus-covid19-demand-surge-shopping-a4393636.html
[3]https://houseofcommons.shorthandstories.com/coronavirus-impact-aviation-transport-report/index.html
[4] https://news.sky.com/story/more-than-10-000-british-airways-workers-being-made-redundant-12044454#:~:text=More%20than%2010%2C000%20British%20Airways%20workers%20are%20being%20made%20redundant,a%20further%204%2C000%20are%20compulsory