The beginning of this month saw the US presidential election overtake coronavirus as the most noticed news story.
Yonder polling shows that the closing days of the campaign trail captured Britain's attention throughout October, as tenuous debates riddled with interruptions underscored the divisiveness of the presidential race.
Since January, the only other stories that have outdone coronavirus as the most noticed events are A-level and GCSE results, Dominic Cummings' lockdown breach, and George Floyd's death. The results and the actions of the Prime Minister's former Chief Adviser are, however, part and parcel of the larger coronavirus story that has gripped the public throughout the year.
But, since the outcome of the US election has become clear, the public have resumed its focus on the virus.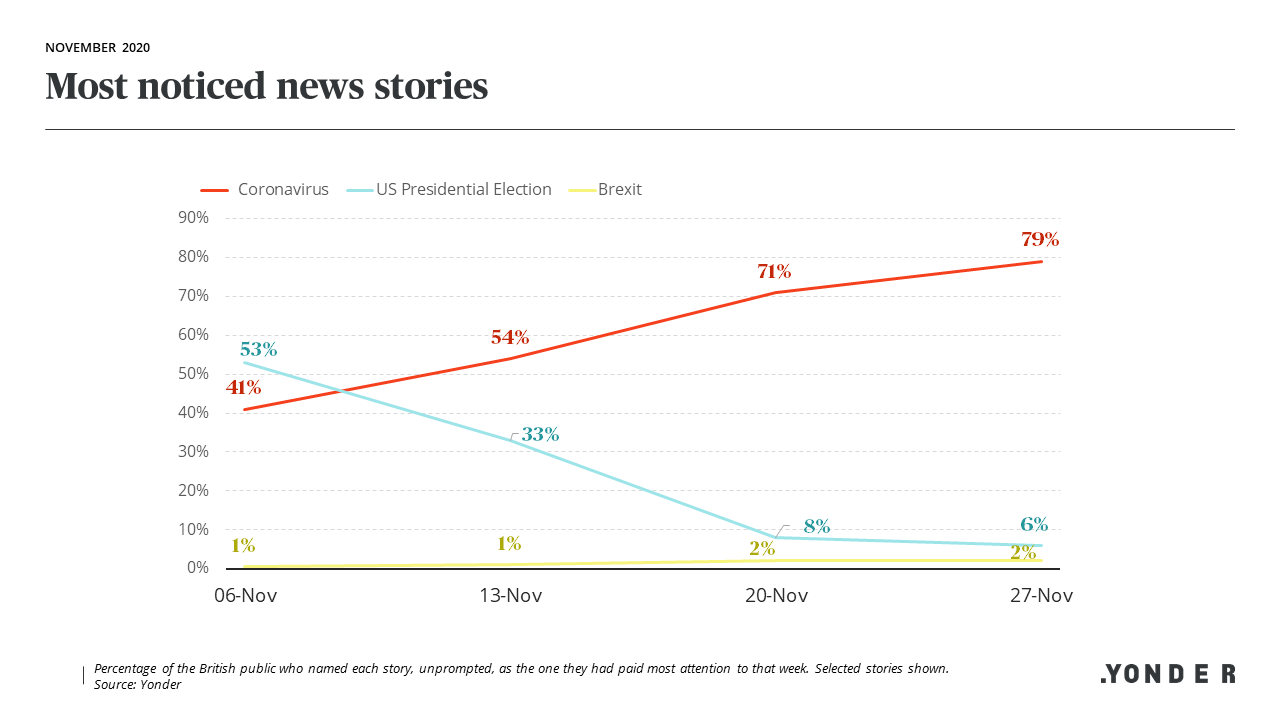 With multiple vaccines seemingly in reach, the public are watching closely in anticipation of an end to the circumstances imposed by the pandemic. Pfizer's announcement of a potential vaccine at the start of the month and Moderna seeking approval in the US and Europe in the final hours of November have captured public attention.
Still, the public approach this news with trepidation. Many who take note of the vaccine progressions acknowledge the unknowns related to an immunisation rollout:
"Development of the new vaccine, which will hopefully protect us from the Covid-19 pandemic to some degree. Several others are also taking place, providing us with 'backups' should the particular vaccine from Pfizer not prove effective. Wide ranging discussions about what this will mean. Problems with the sheer logistics of immunising everyone worldwide asap. The order that we all will receive the vaccine, according to age and circumstance."
As the year nears its close, the public are eager to see an end to the pandemic, though the approval, efficacy, and delivery of a vaccine will likely continue to place coronavirus top of mind going forward.
---
Yonder interviews a nationally representative sample of at least 2,000 British adults every week and asks what news story they have noticed most. The question is open-ended, and participants can name any story. Launched in October 2020, Yonder is a consultancy bringing together the expertise of four specialist businesses; the award-winning research and consultancy of Populus, the state-of-the-art data capture of Populus Data Solutions, the creative brand strategy of BrandCap, and the insight-led innovation of Decidedly.