Between November 2020 and January 2021 Yonder surveyed 90 MPs in the latest wave of Yonder's parliamentary research. The research – conducted while the coronavirus pandemic meant different restrictions were introduced in different parts of the UK – found that:
MPs across the House of Commons remain most concerned about healthcare and the NHS amid the coronavirus pandemic. 86% of MPs mention concerns about the NHS/healthcare, which is almost unchanged since October's 91%.
Concern about the economy, employment and business support surged in April and increased again since October. 78% express concerns linked to the economy and such concern is consistent across the two main parties.
Concerns regarding Brexit have increased to the highest level seen since before the pandemic as the UK's EU transition drew to a close. 46% mention Brexit and it is the third most commonly cited issue.
Housing (20%) and education (10%) make up the other issues in the top five. Labour MPs remain much more likely to raise housing concerns than Conservative counterparts.
Climate change and the environment has dropped down the list of concerns. At the start of 2020, one-in-five MPs (22%) mentioned climate change or the environment in their list of major concerns, but that has fallen to just 5% of MPs in our latest wave of research.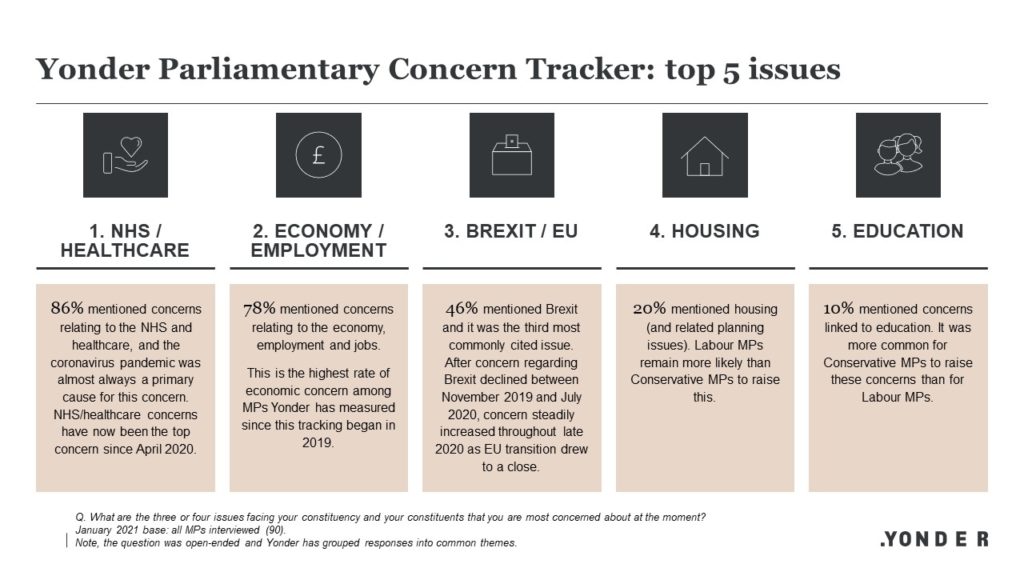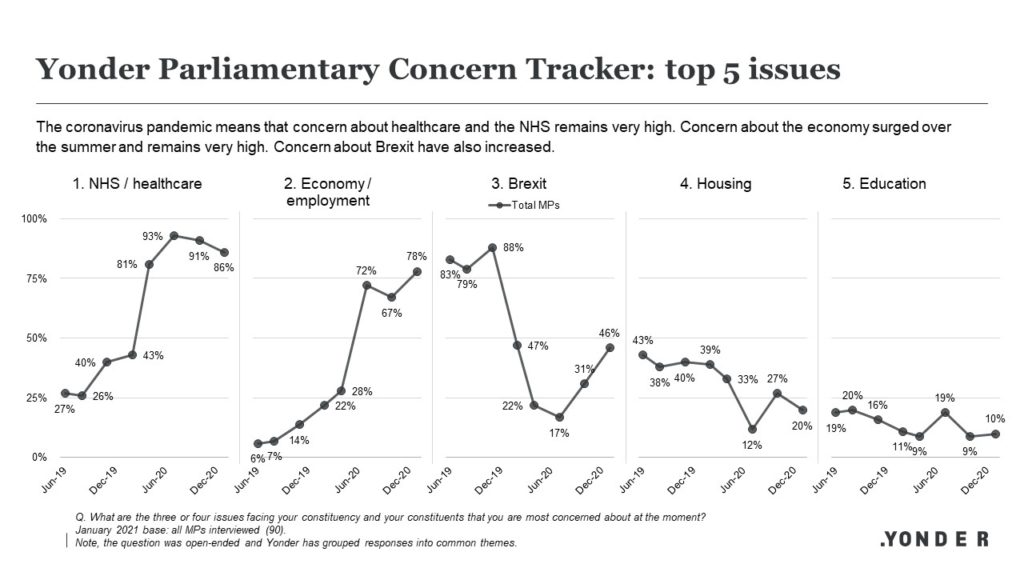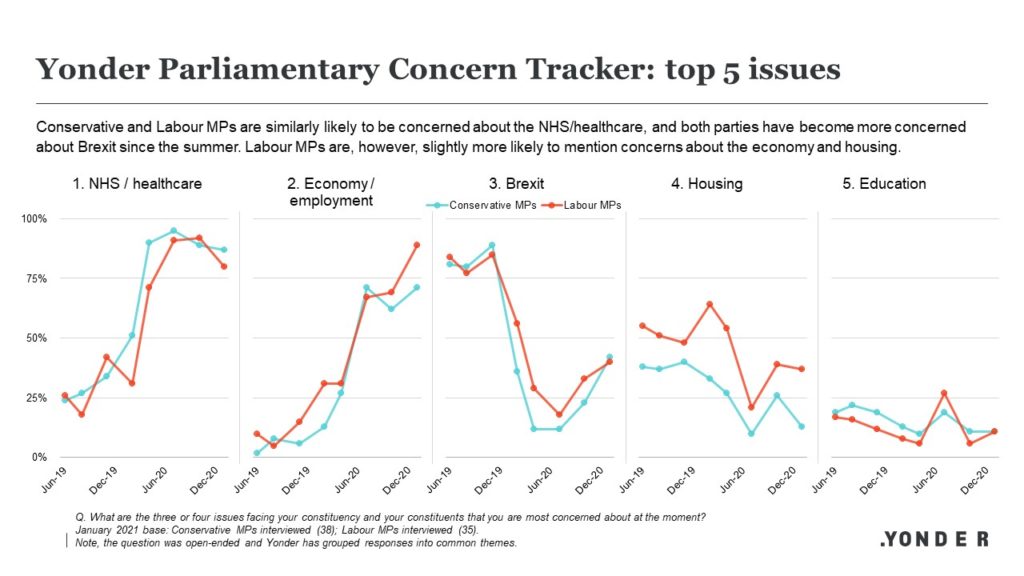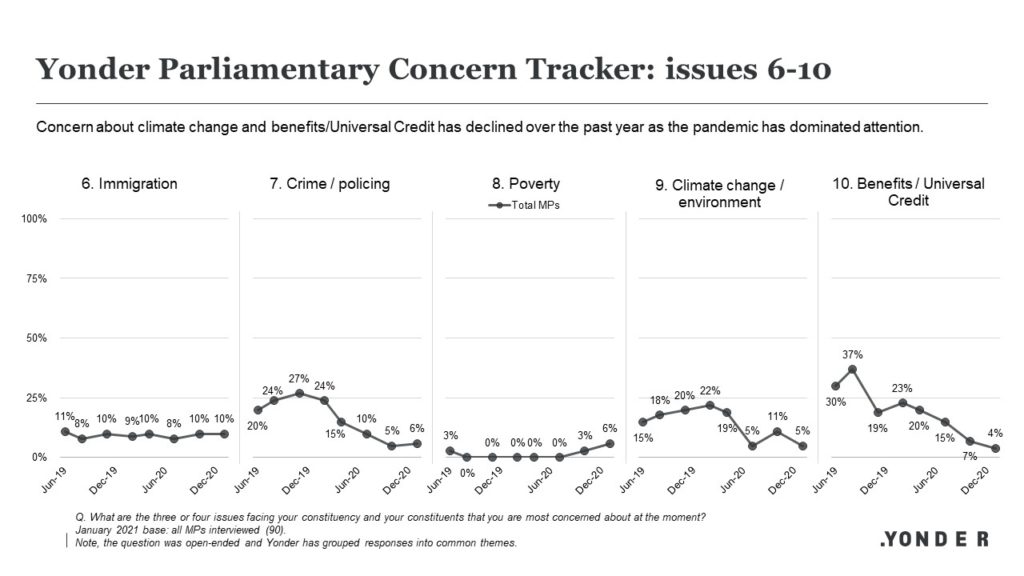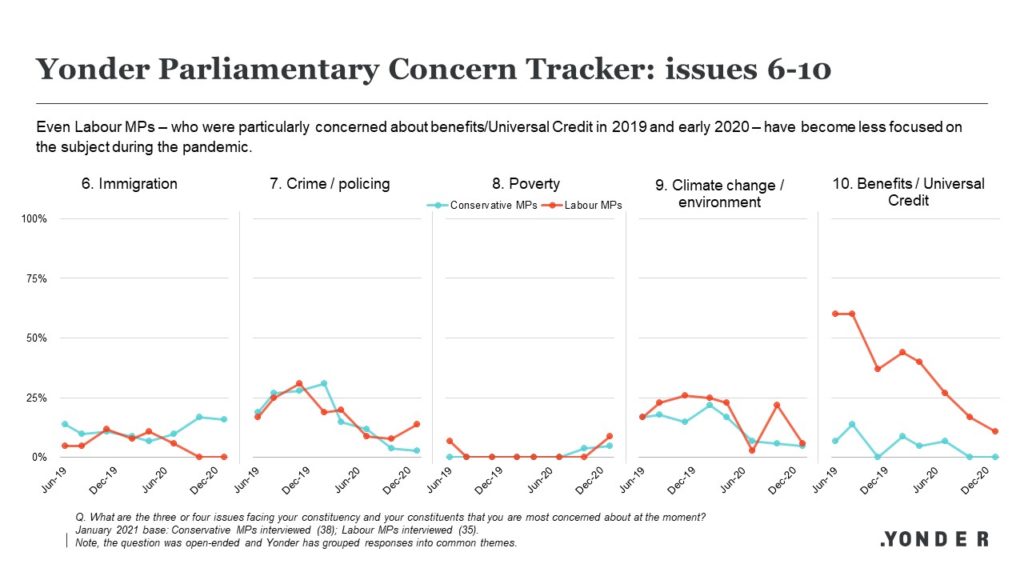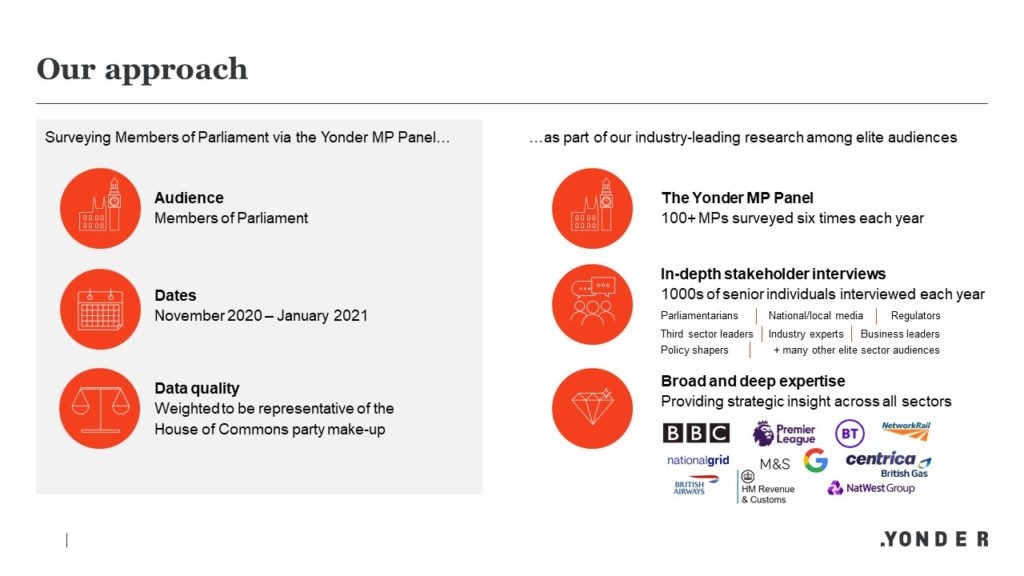 ---
About Yonder
Yonder is a consultancy that blends research, strategy and imagination to unlock opportunity and deliver business performance.
Launched in October 2020, Yonder brings together the expertise of four specialist businesses: the award-winning research and consultancy of Populus, the brand and business strategy of BrandCap, and the insight-led innovation of Decidedly. The state-of-the-art data capture of Populus Data Solutions has rebranded to Yonder Data Solutions.
Yonder has a team of 175 researchers, data analysts, strategists, creatives, culture experts and innovators based in London, New York and Hong Kong.
Yonder's clients include Amazon, BT, Costa Coffee, Formula 1, Lane Crawford, Marks & Spencer, Nationwide, Premier League, Oriental Bank, RBS, Rosewood Hotels and Toyota.
If you'd like to find out more, please contact hello@yonderconsulting.com.